Recruiting Software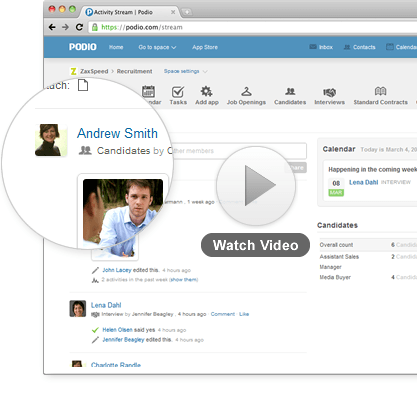 A complete, easy-to-use recruiting software, for collaborative decision making, to ensure you get the best new hires.
Podio's online recruiting software gives your team more power than ever to create a simple, time-saving process to hire new talents. Keep everything in one place, from writing new job openings, to on-boarding of new employees. Automate your applicant tracking and involve as many people as you wish in sourcing and hiring decisions, with structured communication right on spot.
Co-write job descriptions and track your channels, create your own web forms to track applicants in minutes, forward emails for your resume management, and share talents with your team. Then organise interviews, and leverage social features in Podio to choose the best candidate and ensure proper on-boarding. You can easily tailor all processes and related tasks to suit your company. Finally, you can focus on getting the best hire in a more social way.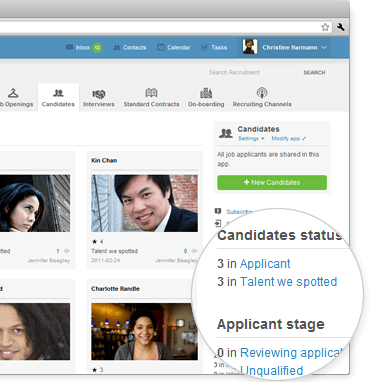 Key Benefits
Complete solution for all your recruiting management needs
A structured process that can be tailored quickly and easily - works for HR, recruiters and agencies of all sizes
Create web forms and automate your applicant tracking system
Share and review possible candidates with as many members of your company as you like
Keep all communication structured and relevant in one place
Collaborative decision making to get the perfect new hire
Free for 5 users, Premium just $9 each Get started for free