Product Development Software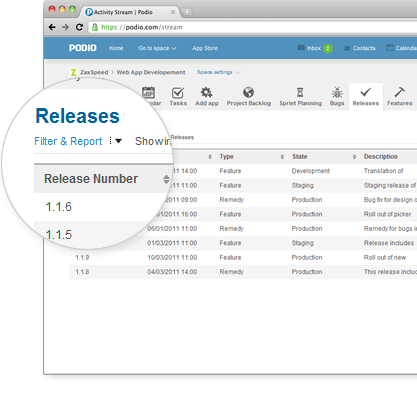 Leverage your team's input for product development, bring your products faster to the market and enjoy customer feedback.
Podio's product development software comes with a range of apps that are completely customizable to your specific needs. Working together online becomes easy and painless. Enjoy better communication and boost your whole team's productivity. Finally, product planning and development is a more streamlined and social process.
Gather product inputs from your team to leverage their expertise. Integrate inputs and customers' requests into the new product development cycle, and use automatic updates to keep everyone on the same page. Manage tasks, track bugs, milestones and progress. Podio extends traditional product development software with social features to help you develop great products.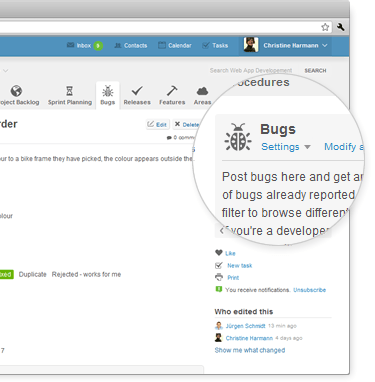 Key Benefits
Skip heavy IT support and long implementations: Podio is up and running in minutes
Actively involve your team to provide valuable input and speed up decisions
Connect different workflows in one single place: from bug tracking to product management
Easily customize all apps to your specific processes
Get started for free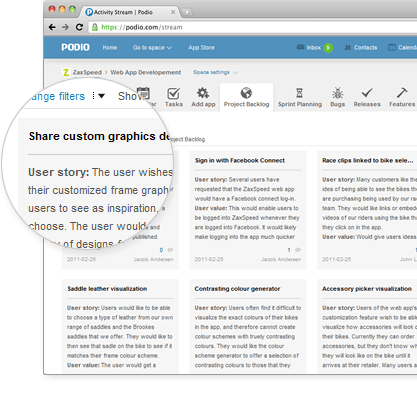 Podio is quick to adopt, easy to use for product development

Rasmus is Head of Product development at Jobzonen.dk - one of Denmark's most popular job sites. He started using Podio with his team of six product developers and quickly got the relevant apps and customized them for their specific needs: bug tracking, development tasks and project management. The team found it easy to use Podio due to its familiar, user-friendly interface. This avoided the typical 'transition pain' stage of new software and the need for heavy IT support.
Keep deployments on time - giving a boost to cooperation, interaction and speeding up decisions
All discussions captured in their relevant context - no more searching for discussions in multiple places
What people are saying
Just integrated @Podio to the next version of @Firmafon and saved 2-3 days of development by building a simple Podio app for a workflow!

@nikstep via Twitter
Free for 5 users, Premium just $9 each Get started for free