Product
Watch the Podio video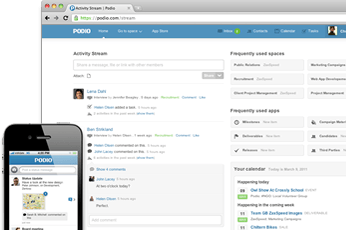 Podio is for your team - and for the whole company.
You can work with everyone on Podio: with your co-workers or with your clients in dedicated work spaces. In your free Employee Network your entire company can communicate, anyone with a company email-address can join. Podio Apps add structure to your work, with a social activity stream featuring comments, likes and status updates.
Discover the easy way to run projects. Simple yet fully flexible. Enjoy successfully finished projects.

Share knowledge, see what others are working on, and connect to your co-workers to become a great team.

Discover the new way of collaborating across teams and organizations. Work smarter together and create more value

Boost your development process. Stay on top of customizable workflows. Leverage team power to create great products.

Stay on top of all your business relations. Fully customizable to close more deals and know your customers better.

Manage your recruiting process in one place. Get out of spreadsheets and email and enjoy hiring the best candidates.

All you need to organize great events. Easily keep track of budgets, participants and your team's tasks.