Intranet Software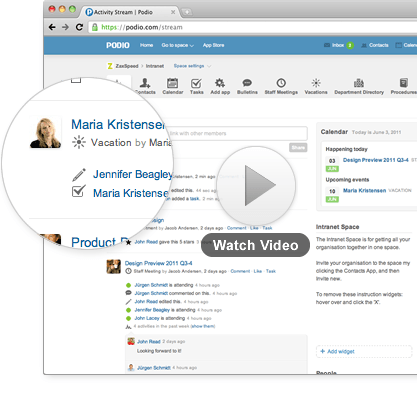 Create an instant social intranet site that's completely customizable to your organisation.
Using Podio as your intranet portal creates a place for everyone to get together, share knowledge, and unleash the power of being social. Every business is different, and your intranet software should reflect this: Podio's App Market makes it easy to find knowledge management tools that work for you, and with the App Builder no programming skills are required to build a new app designed for your company's unique processes.
With Podio work is aligned and co-ordination improved, knowledge sharing between colleagues becomes natural and fun, increasing both employee satisfaction and dedication. The shared calendar keeps everyone up to date on important events, and bulletins make sharing company news easy, with thoughts and feedback shared in a structured way. Social Intranet Software for everybody: Podio.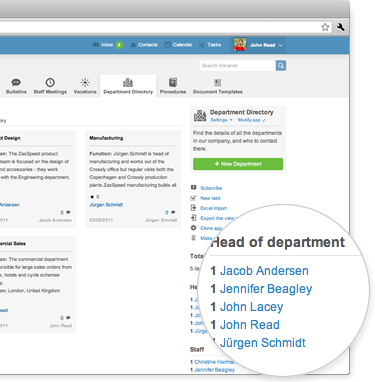 Key Benefits
Make work easier through better coordination and alignment in your organisation
Instant, customised intranet without the long implementation process of traditional intranet software
More engaged and dedicated employees, and a happier workplace
Get started for free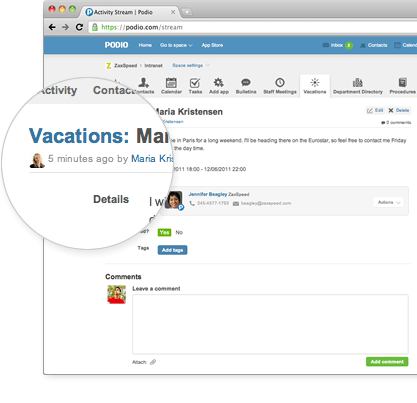 InMobi's employees collaborate across 4 continents with their Podio intranet portal

InMobi is the world's largest independent mobile advertising network with offices on 4 continents. Fast growth led to teams operating in silos without knowing each others' dependencies and using a cumbersome combination of tools. Then they discovered Podio. Now they enjoy one single enterprise social network for sharing, collaborating and communicating.
Communicate in real-time – micro-blogging and automatic activity streams update everybody with all relevant changes
Share and collaborate on documents in a flexible way and save valuable time searching and recapturing knowledge
Free for 5 users, Premium just $9 each Get started for free