Event Management Software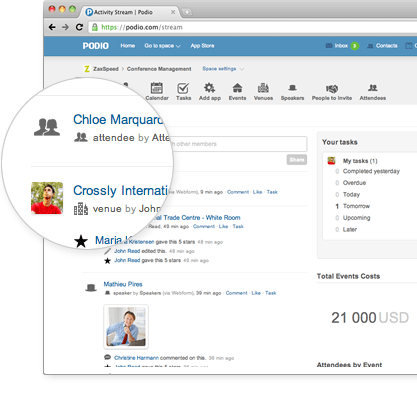 Use Podio for online event management to collaboratively organise events and manage attendees. Completely customisable to suit your occasion.
Using Podio as your event management software creates a place to work with all stake holders involved in your event. Co-ordinate your planning and get decisions made faster. Manage the deadlines and responsibilities associated with each step of your preparations, and get an instant overview of the budget for your events.
Podio webforms create a place for everyone to sign up to your events, giving you real-life figures of how many people are coming. Manage these attendees and have everything stored in one place so following up after your event is quick and easy. Event management software that finally works smarter for you.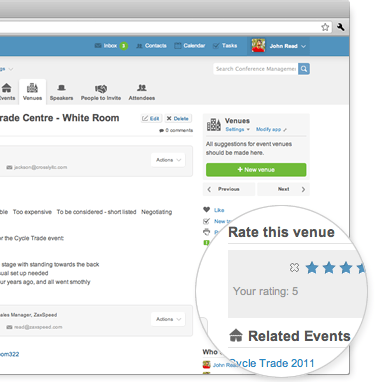 Key Benefits
Online event planning with collaborative and quick decision making
Completely customisable to your specific events.
Involve all the stake holders in your work in one place.
Instant overview of your event's budget.
Real time numbers of signups, with no need to enter tedious data.
Everything stored in one place making it easy to follow up post-event.
Get started for free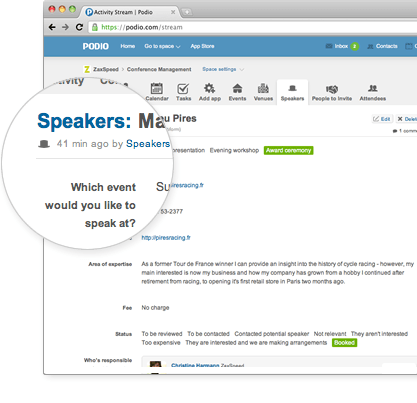 AliveFestival uses Podio to manage events online in a simple way

"We used to spend hours reviewing, sorting, logging and responding to email requests from bands. Now it's all done automatically using the simple Podio web-form we designed ourselves".
Reduced manual admin work to a minimum and focused on the essential part of organizing the event with everyone being up to date of each other's tasks
Got encouraged to communicate more and have fun getting work done using Podio as online event management tool
What people are saying
Need a great #projectmanagement tool? Look no further than @Podio !! Easy to use, Streamlined design! #eventprofs

@Wagner_David via Twitter

I love @podio for managing events I produce. But, look! It has #CRM Software and Lead Management, too! - Podio http://ht.ly/7mqXw #cha

@CharmedByDawn via Twitter
Free for 5 users, Premium just $9 each Get started for free