CRM Software and Lead Management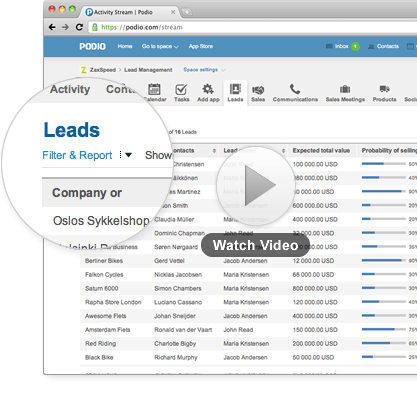 Enjoy the power of people centered lead management with Podio and close more deals.
Sales is about people. Manage leads and track sales with Podio in a more social and collaborative way. Streamline your sales process and keep your team involved with automatically shared updates. Making assessments and working towards the same goal as a team results in better data quality and more sales.
The best part: working together in Podio is fun, so your team will readily generate and share all-time available knowledge about your customers. Capture leads via super-easy web forms or simply forward your emails. Use the saved time to focus on your client relationships. There is a bunch more great features waiting, so why not try Podio as your online CRM?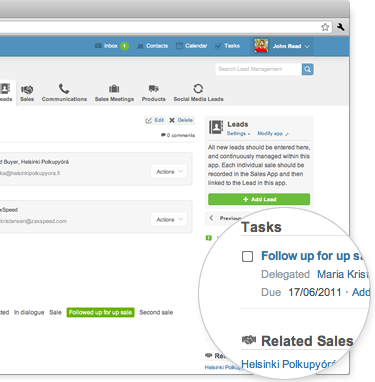 Key Benefits
Collaborate more efficiently on converting leads
Improve data quality by sharing access and engaging leads
Generate sales by leveraging lead endorsements
Share real time sales stats so the sales team is up to date on their progress
Get started for free

ekito knows more about their clients with a simple online CRM built in Podio

ekito is a French IT services and consulting company that employs 35 senior consultants. Naturally, a CRM is the backbone of such a business and Podio finally offered Thomas and his team the much-needed customizability along with a social interface. Using Podio as their online CRM provides them with real business value.
better cooperation means fewer mistakes
building a collective intelligence of the whole team
ease-of-use and customizability means higher productivity
connect a customizable online CRM to internal and external project management
Free for 5 users, Premium just $9 each Get started for free